Since 2008, we have been guided by A SINGULAR vision:
ALL BALTIMOREANS are deserving of THE BENEFITS OF A HEALTHY ENVIRONMENT in which to work and live.
As a 501(c)(3) nonprofit organization proudly directed by leaders of diverse backgrounds and experiences, our approach to this challenge underscores the deep connections between public health, economic development, and community engagement. By seeking out uncommon partnerships, operating at the neighborhood scale, and providing valuable job skills to a marginalized workforce, we are committed to a vision of strong "green" workforce in Baltimore City.
Our initial tree-planting efforts were rooted in the Harris Creek watershed, a buried stream valley that once coursed from present-day Clifton Park through sixteen East Baltimore neighborhoods before meeting the Inner Harbor in Canton.
Decades of urban development transformed the Harris Creek watershed into one of the Baltimore's worst "heat islands" – areas of the city that trap more heat than its surroundings due to high amounts of asphalt, concrete, and other building materials.
While the local "heat island effect" had long been recognized by residents who experienced it, a study from 2017 verified that certain neighborhoods in East Baltimore could, in fact, become up to 16 °F warmer than leafier neighborhoods elsewhere in the city at the same time of day.
The impact of this disparity can be particularly striking in lower income neighborhoods where the indoors offer little relief from unrelenting heat and where a disproportionate percentage of the population is afflicted with chronic health conditions - like asthma and COPD - that are exacerbated during hot summer days.
From 2012-2015, volunteers working under our Trees for Public Health program planted nearly 500 trees in parks, on private property, and lining streets throughout the Harris Creek watershed. In total, we "planted out" as many locations as possible in nine neighborhoods, removing tens of thousands of square feet of heat-trapping concrete in the process.
2018 marked an important step forward in the organization's work.
Listening to neighborhood partners and civic leaders who advocated for economic opportunities for the young men and women in their communities, we established a program that would become the Neighborhood Forester Initiative.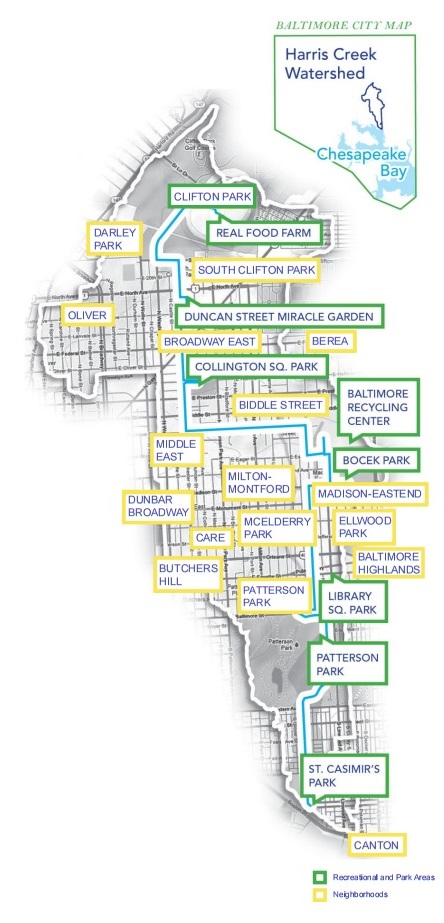 Over the past three years, forty individuals have received industry-recognized training in the urban forestry and landscaping trades through this innovative collaboration with regional employer-partners and the City of Baltimore. Some alumni have gone onto opportunities region-wide, while others have stepped up into salaried leadership positions on our field operations team. Neighborhood Foresters have a crucial part to play in our organization as we continue to increase the rate of tree-planting and establishment citywide.

Cities that have a robust, equitably-distributed network of trees are equipped with valuable infrastructure that helps to make them cooler, more livable, and more resilient to the effects of global climate change. When centered as an economic driver, planting and maintaining trees, along with managing existing forest patches and green spaces, can serve as the basis of a 21st-century civil service sector.
All of us at the Baltimore Tree Trust are guided by this vision of our city's future and are privileged everyday to work towards this promise.